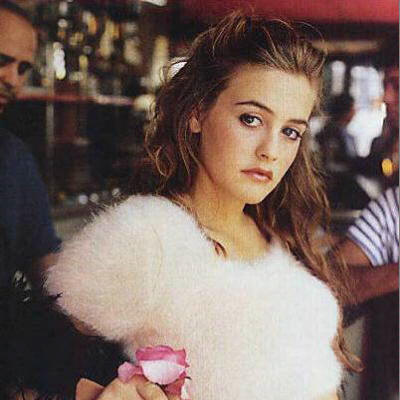 Alicia Silverstone was born on October 4, 1976 in San Francisco, California.
Brief Filmography:
Global Heresy (2001)
Love's Labour's Lost (2000) .... The Princess
... aka Peines d'amour perdues (2001) (France)
Blast from the Past (1999) .... Eve Rustikoff
Excess Baggage (1997) .... Emily Hope
Batman & Robin (1997) .... Batgirl/Barbara Wilson
Babysitter, The (1995) .... The Babysitter (Jennifer)
True Crime (1995) .... Mary Giordano
... aka Dangerous Kiss (1995)
... aka True Detective (1995)
Clueless (1995) .... Cher Horowitz
... aka I Was a Teenage Teenager (1995)
... aka No Worries (1995)
Hideaway (1995) .... Regina
Nouveau monde, Le (1995) .... Trudy
... aka New World, The (1995)
Cool and the Crazy (1994) (TV) .... Roslyn
Scattered Dreams (1993) (TV) .... Phyllis Messenger
... aka Scattered Dreams: The Kathryn Messenger Story (1993) (TV)
Crush, The (1993) .... Darian Forrester (Theatrical Version)/Adrian Forrester (T.V. Version)
Alicia Silverstone is an actress that I like mostly due to the fact that she reminds me tons of my best friend from high school thru college. She's also a decent actress. She was quite creepy in"The Crush", adorable and funny in "Clueless" and was definitely a good choice as Bat Girl. Anyway, I made a couple of wallpapers for my little brother and thought I'd post them here.